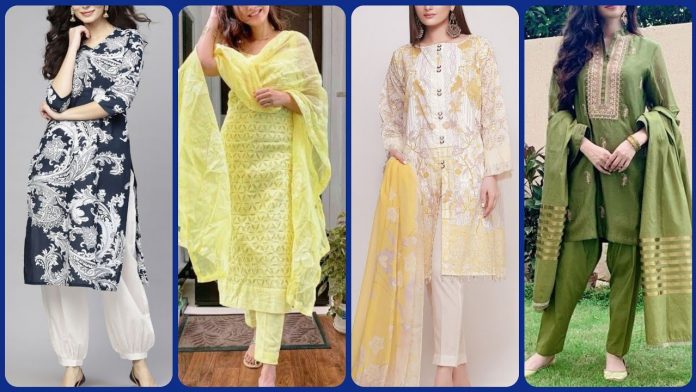 Pakistan Ladies Shalwar Kameez Designs 2024: Shalwar Kameez is Pakistan's national dress. But somehow the fashion and trend of wearing shalwar kameez has never gone out of fashion. In Pakistan in rural areas, the women still wear the shalwar kameez as the basic home-wear clothes. But in urban areas, the modern and trendy designs of shalwar kameez are known. Many women in urban areas still wear shalwar kameez as basic clothes.
But the normal and old-fashioned trend and style of shalwar kameez bring some new modern ideas in it. With the latest modifications in the old-fashioned shalwar kameez, Here we're going to tell you about some beautiful Ladies' shalwar kameez designs in Pakistan 2024.
Shalwar Kameez designs in Pakistan 2024
Shalwar kameez is a very comfortable dressing code with several modifications in it. But still, the fashion and trend of shalwar kameez are very popular among Pakistani women. Many fashion designers and the fashion industry bring new modified designs of clothes.
The new trend of shalwar kameez designs for women looks very elegant and stunning. Some little modifications bring a lot of new styles and elegance to the clothes. Here we are going to show you some new trendy designs of ladies' shalwar kameez in Pakistan 2024.
Beautiful Ladies Shalwar Kameez Designs In Pakistan 2024
There are different styles of shalwar kameez in different seasons, Such as in summer light color and lawn stuff shalwar kameez are in trend. But, in winter there is woolen stuff in woven types shalwar kameez designs are available. Some of the latest stylish yet old-fashioned designs of Pakistani shalwar kameez designs in Pakistan are as follows.
1. Plain Shalwar Kameez for ladies
The trend of dimple shalwar kameez is never out of fashion. Still, the simple plain shalwar kameez has the same elegance and beauty in it. For Pakistani women, a long shirt with a simple shalwar is still very popular and trendy.
2. Short kameez and Plain shalwar
For some very heightened women and even girls, the trend of short kameez with the plain simple shalwar is still very famous. Women love to wear these simple and comfortable dresses for casual wear.
3. Full Sleeves Kameez and simple shalwar
Some ladies still have the trend of wearing fill-sleeved kameezes with plain simple shalwar. In Pakistan, these simple shalwar kameez are in fashion for ages.
So, these are some very beautiful designs of Pakistani lady's shalwar kameez. In Pakistan, there is man designer wear available for the shalwar kameez styles and prints outfits. You can get benefit from both online and in-store shopping.