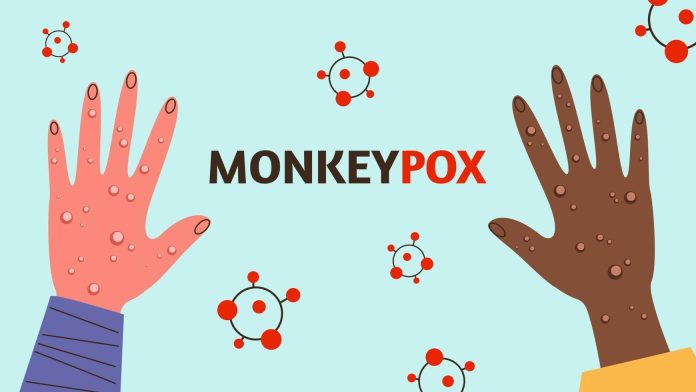 Monkeypox now known as Mpox is a rare viral disease generally found in Central and West Africa but now cases are found in other countries as well. Those cases were due to international travel, close contact with an infected animal or person, and imported animals. Additionally, it has commonly seen in children under 15 years old and homosexuals, unlike this it has also been found in other people. Monkeypox is diagnosed through PCR by taking samples from skin lesions.
Monkeypox Cause
The disease is caused by the Mpox virus (MPXV) that belongs to the genus Orthopoxvirus. There are two types(clades) of Mpox; one is found in Central Africa and the other one is from West Africa. The recent global outbreak of monkeypox in 2022 was due to the West African clade.
Symptoms of Monkeypox in Pakistan
The common symptoms of include
Rashes on skin

Mucosal lesions

Fever

Muscle/Headache

Back pain

Lethargy

Swollen lymph nodes
This viral illness typically lasts for 2- 4 weeks. One should seek medical help if he's finding any of the following symptoms;
Chest pain or congestion

Neck stiffness

Difficulty in speaking

Breathing problem

Seizures

Mobility loss
Transmission
The virus can spread through direct contact with an infected person or animals. Other ways of direct transmission such as,
Rashes, sores, body fluid, or respiratory droplets of an Mpox infected person.

It can also transmit by using any material like clothes, bedding, or blankets of an infected person.

Bites of infected animals and using products made by such animals.

Intimate contact.
Monkeypox Treatment in Pakistan
Specific antiviral drugs are used to treat monkeypox.
How to prevent yourself from Monkeypox Pakistan?
Few cases have also been reported in Pakistan, so it's not only restricted to the African region now. To save yourself from this infection, you must follow the precautionary measures to not fall into this disease.
Disinfect your space and surroundings like shelves, etc.

Avoid physical contact with a monkeypox-diagnosed person or who has symptoms.

Cover your nose and mouth with a mask.

Wash your hands frequently with soap.

Get vaccinated to prevent yourself.
According to WHO, the vaccine should be given to those who had contact with a monkeypox-affected person within 4 days or 14 days if no symptoms have been found.