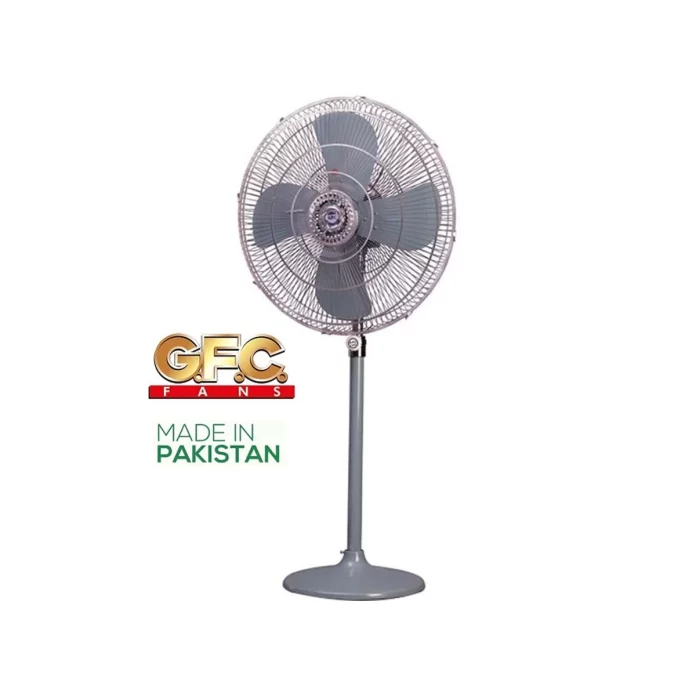 GFC Pedestal fan 24 Inch price in Pakistan. GFC is one of the most superior manufacturers of electric fans in Pakistan. Their high-quality electric products export extensively across the globe. The well-known company was established in 1954 and has continued its excellence since then. For their remarkable performance for decades, they had the honor to receive the Brand of the Year Award.
They have also won Export Trophy for their commendable export service. They received numerous awards for their acknowledgment and their utmost efforts in producing high-quality products.
Moreover, GFC has gained certification by Underwriter Laboratories, USA, and CE to export fans in Canada and Europe.
In this article, we'll be discussing GFC pedestal fan and their price in Pakistan.
GFC Pedestal fan 24 Inch price:
Myga with Cross Base
A pedestal fan is designed with aluminum blades and made with pure copper wire covered with a highly energy-efficient electrical sheet. The fan coats with high-quality paint to enhance the fine finish. The jerk-free fan has the 3-speed option and contains horizontal oscillation at 90°. It is packed in corrugated cartons and delivered with a protective thermophore.
The fan contains 4 blades capacitor with a 450mm sweep. Other technical features include 1475 RPM, 70 and 100m3/min air delivery, 65- and 90-WATTS power with service value of 38.05 ft3/min/Watt and 39.22 ft3/min/Watt. The price range of Myga fans is between Rs. 10,000-13,000.
Designer With Cross Base- GFC Pedestal fan 24 Inch price
This model comes with 4 blades, and a capacitor of 450mm sweep along with technical specifications which include 1475 RPM, 70m3/min air delivery, 65Watts power supply, and 38.05 ft3/min/Watt service value. The price value is Rs. 10,615-13,795.
Copper Winding
It is made with 99% copper winding with a triple-speed heavy-duty motor. The fan comprises of grey shade, 24-inch blades, and aerodynamic wings that bring you fresh air. The copper winding pedestal fan's price starts from Rs. 16,500.