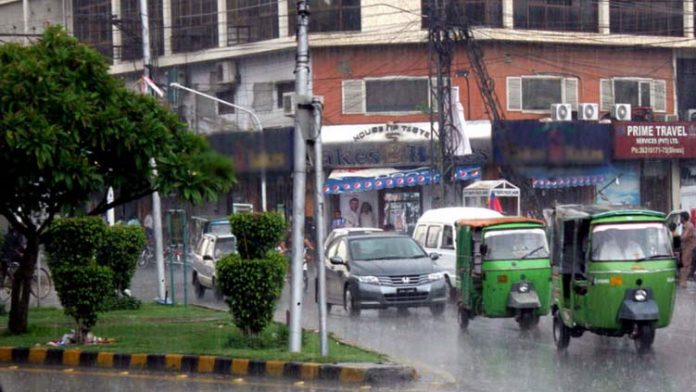 Monsoon Season In Lahore: The monsoon season in Lahore will begin on July 1, 2023, according to the Director of the Meteorological Department. So, in this article, we will tell you about the rainy season in Lahore in 2023. Read the whole article to get full weather information about Lahore during the monsoon season.
As a result, Lahore's climate during July can be described as being extremely hot and extremely wet. July falls under the summer season in Lahore and is typically the 2nd warmest month. The daily minimum temperature averages about 36°C (97°F) during the day, and about 27°C (80°F) at night.
Lahore drenches itself in around 203mm of rain per month on average in July, making it a rather wet time to visit. It rains over an average of 11 days, but this is subject to change.
Monsoon Season in Lahore
Rain Chart of Monsoon In Lahore
As we know monsoon season in Lahore will start in July. so, below is the calendar for July 2023 in Lahore. this calendar or chart is about the rainy season in Lahore from 1st July to 31st July 2023.
| | | | | |
| --- | --- | --- | --- | --- |
| Date | Temperature (°C) | (°F) | Temperature max. (°C) | (°F) | Temperature min. (°C) | (°F) | Precipitation / Rainfall (mm) | (inch.) |
| 1. July | 32 °C | 89 °F | 36 °C | 97 °F | 27 °C | 81 °F | 4.0 mm | 0.2 inch. |
| 2. July | 32 °C | 90 °F | 37 °C | 98 °F | 27 °C | 81 °F | 4.2 mm | 0.2 inch. |
| 3. July | 32 °C | 89 °F | 36 °C | 97 °F | 27 °C | 80 °F | 3.7 mm | 0.1 inch. |
| 4. July | 32 °C | 90 °F | 36 °C | 97 °F | 27 °C | 80 °F | 3.1 mm | 0.1 inch. |
| 5. July | 32 °C | 89 °F | 36 °C | 97 °F | 27 °C | 80 °F | 2.7 mm | 0.1 inch. |
| 6. July | 31 °C | 89 °F | 36 °C | 97 °F | 27 °C | 80 °F | 3.6 mm | 0.1 inch. |
| 7. July | 32 °C | 89 °F | 36 °C | 97 °F | 27 °C | 80 °F | 3.5 mm | 0.1 inch. |
| 8. July | 32 °C | 89 °F | 36 °C | 97 °F | 27 °C | 81 °F | 3.7 mm | 0.1 inch. |
| 9. July | 32 °C | 90 °F | 37 °C | 98 °F | 27 °C | 81 °F | 4.5 mm | 0.2 inch. |
| 10. July | 31 °C | 88 °F | 36 °C | 96 °F | 27 °C | 81 °F | 7.3 mm | 0.3 inch. |
| 11. July | 31 °C | 88 °F | 35 °C | 96 °F | 27 °C | 80 °F | 10.8 mm | 0.4 inches. |
| 12. July | 31 °C | 87 °F | 35 °C | 95 °F | 26 °C | 80 °F | 8.1 mm | 0.3 inches. |
| 13. July | 30 °C | 87 °F | 35 °C | 94 °F | 26 °C | 79 °F | 4.5 mm | 0.2 inch. |
| 14. July | 31 °C | 87 °F | 35 °C | 94 °F | 26 °C | 80 °F | 4.1 mm | 0.2 inch. |
| 15. July | 31 °C | 88 °F | 35 °C | 95 °F | 27 °C | 80 °F | 4.1 mm | 0.2 inch. |
| 16. July | 31 °C | 88 °F | 35 °C | 95 °F | 27 °C | 80 °F | 5.5 mm | 0.2 inch. |
| 17. July | 30 °C | 87 °F | 34 °C | 94 °F | 26 °C | 79 °F | 4.9 mm | 0.2 inches. |
| 18. July | 30 °C | 87 °F | 34 °C | 94 °F | 27 °C | 80 °F | 5.4 mm | 0.2 inch. |
| 19. July | 31 °C | 88 °F | 35 °C | 95 °F | 27 °C | 80 °F | 4.3 mm | 0.2 inch. |
| 20. July | 30 °C | 87 °F | 35 °C | 95 °F | 27 °C | 80 °F | 6.8 mm | 0.3 inches. |
| 21. July | 30 °C | 87 °F | 35 °C | 94 °F | 26 °C | 79 °F | 7.2 mm | 0.3 inch. |
| 22. July | 30 °C | 86 °F | 34 °C | 94 °F | 26 °C | 80 °F | 8.3 mm | 0.3 inches. |
| 23. July | 30 °C | 87 °F | 34 °C | 94 °F | 27 °C | 80 °F | 6.1 mm | 0.2 inch. |
| 24. July | 30 °C | 87 °F | 34 °C | 93 °F | 27 °C | 80 °F | 4.9 mm | 0.2 inches. |
| 25. July | 31 °C | 87 °F | 34 °C | 94 °F | 27 °C | 80 °F | 4.0 mm | 0.2 inch. |
| 26. July | 30 °C | 87 °F | 34 °C | 93 °F | 27 °C | 80 °F | 5.4 mm | 0.2 inch. |
| 27. July | 30 °C | 86 °F | 34 °C | 93 °F | 27 °C | 80 °F | 5.9 mm | 0.2 inch. |
| 28. July | 30 °C | 86 °F | 34 °C | 93 °F | 26 °C | 79 °F | 6.2 mm | 0.2 inch. |
| 29. July | 30 °C | 85 °F | 34 °C | 92 °F | 26 °C | 79 °F | 6.8 mm | 0.3 inches. |
| 30. July | 30 °C | 86 °F | 34 °C | 93 °F | 26 °C | 80 °F | 4.5 mm | 0.2 inch. |
| 31. July | 30 °C | 86 °F | 34 °C | 93 °F | 27 °C | 80 °F | 4.5 mm | 0.2 inch. |
Image Gallery in Monsoon