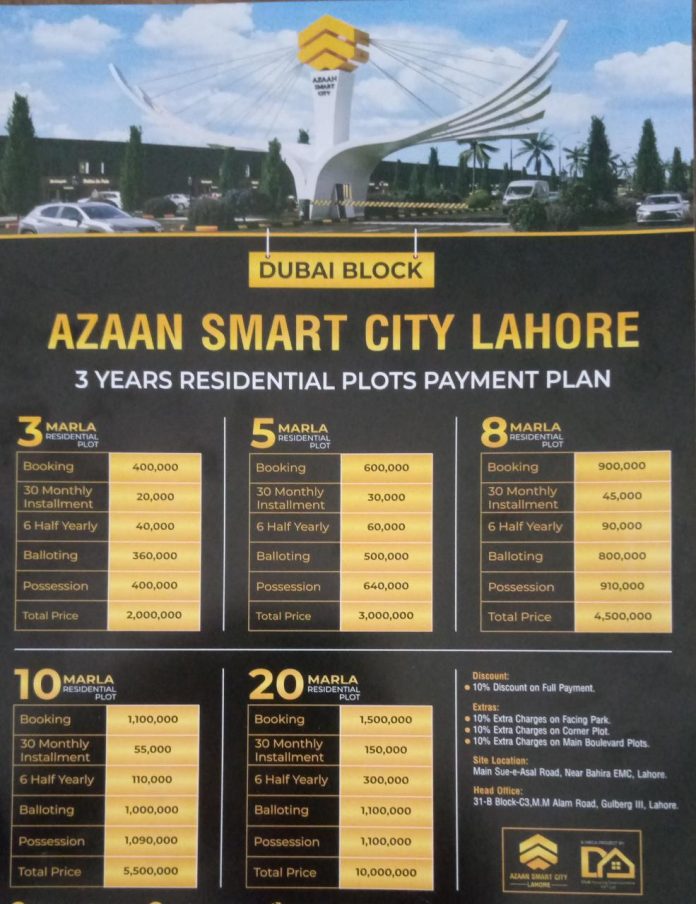 Azaan Smart City Lahore Payment Plan, Location, Address, Files Sale Purchase: Azaan Smart City Lahore is a real estate project located in Lahore, Pakistan. It is a gated housing society that offers residential plots, houses, and commercial properties. Azaan Smart Lahore aims to provide a modern and secure living environment to its residents.
Azaan Smart City Lahore offers different payment plans depending on the type and size of the property. The payment plans typically include a down payment followed by installments spread over a specific period. However, the exact payment plan details, including down payment percentages, installment durations, and other terms, may vary over time.
To obtain the most up-to-date and accurate information about Azaan City Lahore payment plans, I recommend visiting their official website or contacting their sales office directly. They will be able to provide you with the specific details you need, including any recent changes or updates to their payment plans.
Azaan Smart City Lahore Location
Address: Sue-e-Asal Road, Lahore, Punjab 54000 Near Bahria MEC.
Azaan Smart City Lahore Map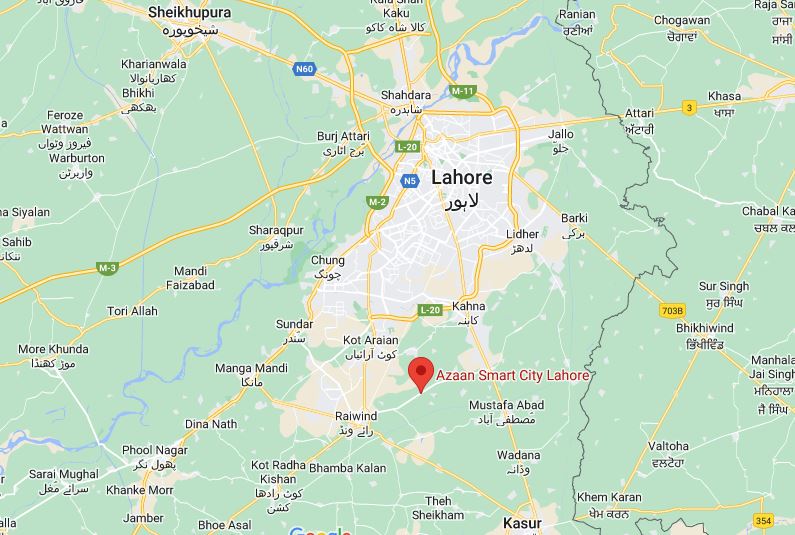 Azaan Smart City Lahore Payment Plan
We Share Payment plan in Pictures.
Azaan Smart City Lahore Contact Number
Manager Samar Ashraf
Call for Sale Purchase
03200481011
3 Marla File in Lahore
Good housing societies often have a range of features and amenities that contribute to a high quality of life for residents. While the specific features may vary depending on the location and target market, here are some commonly sought-after features in housing societies:
Gated and Secure Environment
A good housing society typically offers a secure and gated environment with controlled access points, CCTV surveillance, and professional security personnel to ensure the safety of residents.
Modern Infrastructure
The infrastructure of a housing society should be well-planned and include well-maintained roads, proper drainage systems, efficient water and electricity supply, and reliable telecommunications networks.
Parks and Recreational Facilities
Green spaces, parks, and playgrounds are important for residents' well-being. Good housing societies often provide well-designed parks, jogging tracks, sports facilities, and recreational areas for families and individuals.
Community Facilities
These can include community centers, mosques, schools, healthcare facilities, and shopping centers within the housing society. Having these amenities nearby saves residents time and enhances convenience.
Adequate Utilities and Services
Housing societies should have reliable and uninterrupted utility services, including water supply, electricity, and gas connections. Efficient waste management systems and regular maintenance of common areas are also important factors.
Connectivity and Transportation
Easy accessibility to major roads, highways, and public transportation is a desirable feature. Good housing societies often provide well-connected road networks and may have their own shuttle services or proximity to public transportation hubs.
Lifestyle Amenities: Additional amenities that enhance the lifestyle of residents can include gyms, swimming pools, sports clubs, community centers, and recreational activities organized within the society.
Environmental Sustainability: Increasingly, housing societies are incorporating eco-friendly features such as green spaces, recycling initiatives, rainwater harvesting, and energy-efficient infrastructure to promote sustainable living.
These are just some of the features that contribute to a good housing society. The specific priorities and preferences may vary for individuals. It's important to consider your own needs and preferences when evaluating housing societies.