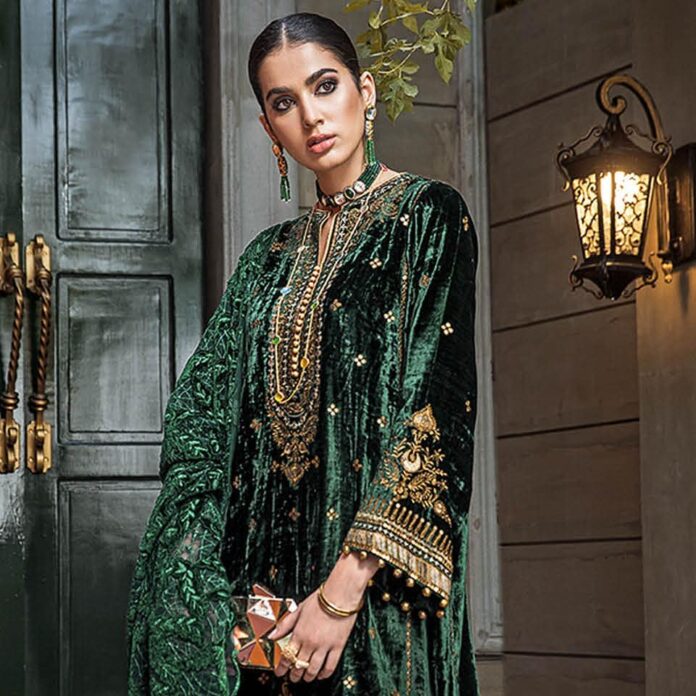 Latest Gul Ahmed winter Collection: Gul Ahmed is the most loved brand in Pakistan. Every woman in Pakistan owns Gul Ahmed dresses. It is worthy to note that Gul Ahmed always produces the best fabric and designs for its customers. There are options for ladies, men, and children. Gul Ahmed's summer collection 2023 was a hit. Now they are introducing their winter collection. You can find decent hues and the chicest prints to satisfy your need for looking appealing throughout winter. 
Latest Gul Ahmed winter collection
Every year Gul Ahmed brings stylish and comfy clothes for his customers. As winter is just around the corner, they have released some of their trendiest designs. Winter in Pakistan does not come for a long time. So, Gul Ahmed has introduced fabrics for every seasonal change. The brand focuses on the needs of its clients. Hence, they produce ready-to-wear items, cardigans, sweaters, and jackets for men and women. Gul Ahmed has the best color plates available in single shirts, two pieces, and three pieces.
This winter Gul Ahmed has launched nude and dark shades with the latest prints. Their winter collection comes in the following categories:
Corduroy

khaddar

Karandi

Twill linen

Velvet

Vintage garden

Pashmina Shawl
This winter dress to impress in beautiful clothes, and flaunt around like a butterfly.
Unstitched collection
This collection is awe-inspiring. You can modify your dress just the way you like. UNSTITCHED COLLECTION comes in dazzling colors and designs. So, grab your favorites and stitch them right away.
Corduroy unstitched collection
Corduroy is comfortable fabric. It is used to prepare bottoms, but corduroy can be a full stitched dress. This collection has dark hues so you can feel sophisticated in a business meeting or at an evening party.
Khaddar Outfits
Khaddar is a unique fabric. This collection focuses on earthy tones and designs. The warmth of this material and its colors makes it perfect for winter. You can design it as a long shirt, short Kurti or Anarkali frock. Just use your imagination.
Latest Gul Ahmed winter collection
Karandi collection
Gul Ahmed and Nishat are some of the brands that produce the softest Karandi. This fabric is lightweight and beautiful. It shines in the winter sun. Usually, whites and black dresses are made in this color because Karandi enhances the meaning of the shades. 
Grab your favorite articles before they run out.
Twill linen outfits
Twill linen is the most relaxed fabric in winter. You can wear this material anywhere. This collection comes in bold colors and prints. Style it in your way and feel beautiful.
Velvet and Pashmina Shawl collection
Velvet and Pashmina are winter favorites. They are rich in colors and prints. Design these collections just the way you like and enjoy your winter outdoors.
Ready-to-wear collection
Gul Ahmed also produces ready-made dresses. So, nobody feels out. There is a dress for every occasion. You can also get sweaters, cardigans, and jackets.
Latest Gul Ahmed winter collection
The dresses in this brand are suitable for every day wear. Hence, you can also find many suits in the winter collection appropriate for parties, semi-formal events, etc. Gul Ahmed is very diverse with its color selection for dresses, so the variety of colors you can spot in the winter collection is remarkable.