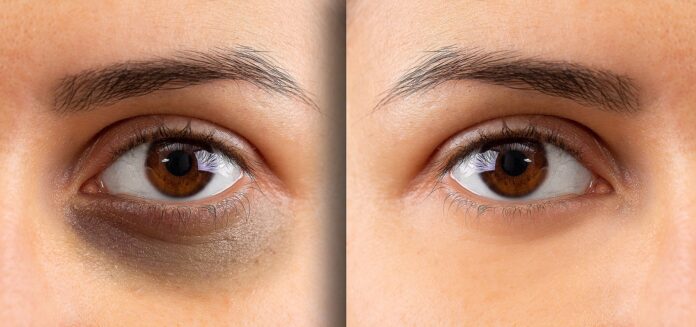 Best under eye cream for dark circles: Dark circles are darkened areas around your eyes. Usually, sleep deprivation is the leading cause of dark circles with other health issues. Genetics, pigmentation, allergies, and thinning skin also causes dark circles. Dark circles, when accompanied by dizziness, tiredness, and, fatigue could point towards iron deficiency. So, multiple factors can cause these notorious circles, which are not easy to say goodbye to.
Best Under Eye Cream for Dark Circles
Another cause of dark circles is the natural aging process. When you get old, you tend to lose fat and collagen. It makes the reddish-blue blood vessels under your eyes more prominent.
Also, in aging, people commonly develop puffy eyelids or hollows under their eyes. These physical changes cast shadows that can appear to be dark circles under the eyes. 
How to treat dark circles
Studies have shown that caffeine, vitamin E, aloe, hyaluronic acid, and retinol are effective. Dermatologists also recommend using good brightening creams containing azelaic acid, kojic acid, glycolic acid, or hydroquinone. Now there are a lot of products that contain such compounds. Hence, investing in a good under-eye cream or serum is not easy.
Here we will tell you the best under-eye cream for dark circles that is available in Pakistan. 
Neutrogena Hydro boost eye gel-cream
Neutrogena is a great product. The reviews show that its results start to appear within a week. It is a multi-action cream. This cream targets wrinkles and dark circles together. 
Eveline 24k gold diamond luxury rejuvenating eye cream serum
Eveline is a famous brand in Pakistan. The cream serum is specifically for treating dark circles and puffiness around the eyes. It also contains SPF 15, which helps against harmful UV rays. 
The Body Shop vitamin E eye cream
Another product that has been around for some time is the vitamin E eye cream from The Body shop. It contains vitamin E, hyaluronic acid, and wheat germ to reduce the appearance of fine lines and dark circles. 
Olay Regenerist eye lifting serum 
Olay Regenerist is a brightening and anti-aging formula. It instantly provides brightens the look and covers fine lines and dark circles. You will notice the results within two weeks.
How to use under-eye cream?
Use daily at night after cleaning your face. 

Take a small amount on your fingertip and rub gently around the eye. 

Massage gently. 

Allow the cream to get dried and absorbed in the skin properly. 

If it gets into the eye, wash it immediately.