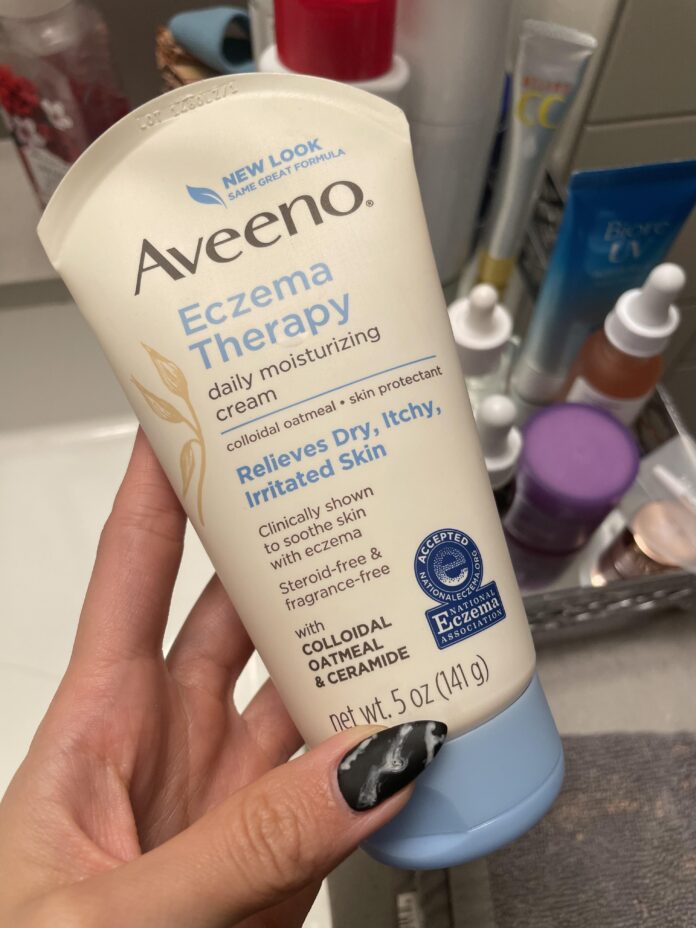 Aveeno Eczema Therapy Cream in Pakistan: Eczema is a skin condition that causes the skin to become red, itchy, irritated, dry, and inflamed. The most common form of Eczema is called Atopic Dermatitis. It often appears in babies and young children. Eczema occurs on the arms, inner elbows, back of the knee, or head. But it can also appear around the neck, on eyelids, around the mouth, etc.  
What causes Eczema?
Studies show that eczema is caused by an overactive immune system. It responds actively when irritants are present. Eczema flares up when coming into contact with: 
Chemicals found in detergents

Sweating

Temperature changes

Stress

Food allergies

Makeup, fragrance, dyes

Skincare products having certain chemicals

Animals

Plants, flowers, nuts
Aveeno Eczema Therapy Cream in Pakistan
How to Prevent Eczema?
Aveeno eczema cream is the best solution to treat Eczema. Use lukewarm water while showering, and apply the moisturizer immediately on the wet body. Aveeno Eczema Therapy products are made from colloidal oatmeal. Therefore, they are rich in proteins, vitamins B, and E. Nourishing lipids help restore and strengthen the moisture barrier of the skin. Hence, they also help relieve dry skin while helping for healthier-looking skin.
Aveeno Eczema Cream improves signs of eczema from day one in Pakistan. It provides immediate and long-lasting relief of dry skin. It is proven to reduce topical corticosteroid use. And hence, enhance the quality of life in people with mild to moderate atopic dermatitis.
Aveeno eczema therapy cream 
Aveeno cream is available in Pakistan. Its price is PKR 2950 to 3500. Many online pages have it in stock. So make sure to grab yours as early as your first sign of Eczema. 
ADDITIONAL TIPS FOR COPING WITH ECZEMA
Pamper your skin. Maintain good skincare habits while avoiding things that can trigger flare-ups.
Try not to scratch. Repeated scratching on dark skin can lead to skin thickening and pigmentation changes.
Use sunscreen. Everyone should protect their skin from the sun every day in every season. If your Eczema has caused discolorations, going out in the sun can worsen it. Therefore, mineral-based sunscreen with titanium oxide is gentle to use on skin.