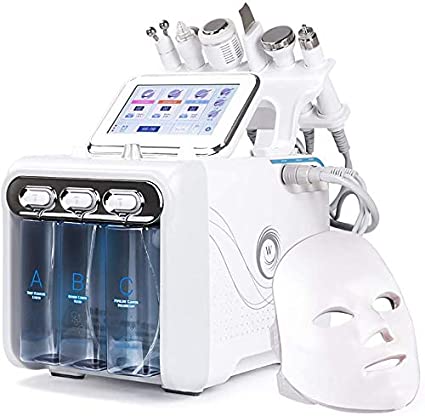 Best Hydrafacial Machine Price in Pakistan: Are you looking for a facial that can make your skin brand new? Go for Hydrafacial, as it has all the treatments that can help you achieve glowing, healthy skin. Hydrafacial is raved all around the world by celebrities as well. It involves a 3-step regimen that includes cleansing, exfoliating, and infusing the skin with nourishing serums. Hence, this facial is a one-size-fits-all approach and is suitable and safe for all skin types.
Best Hydrafacial Machine Price in Pakistan
Hydro-dermabrasion exfoliates by removing the top layer of dull skin. As a result, it ramps up collagen production. Results vary, but you can expect to see improvements in your skin tone and texture. Including:
Fresher-looking skin

Minimized fine lines

Smoother skin

Reduced hyperpigmentation

Minimized pores

Reduced age spots

Faded scars

Firmer, tighter skin

Cleaner-looking skin

More radiant complexion

Rejuvenated appearance
Best Hydrafacial Machine Price in Pakistan
 JJ.Yoma Multifunctional Hydro-Dermabrasion Machine
This hydro-dermabrasion machine from JJ. Yoma is a 7-in-1 skin rejuvenation device. It produces hydrogen ions on the skin surface that deeply penetrate the skin. Hydrogen smoothes out the wrinkles, fine lines, bags under your eyes. Hence, making hydrated, healthy-looking skin. It cleans and shrinks pores. Hence, it reduces sebum production. It treats blemishes and pigmentation. Therefore, revealing an improved, brighter skin tone. The ion gun pen enriches the skin with nutrients in the form of fine molecular atomization. As a result, the high frequency lifts and tightens the skin for youthful and firm skin.
Pros
Suitable for all skin types

Suitable for home use

7-in-1 device

Equivalent to 8 hydrating masks
Cons
Best Hydrafacial Machine Price in Pakistan
It is imported from China. The price of a Hydrafacial machine ranges between PKR 75,000-1,35,000. The salon charges PKR 5000-9000 for a single session. You can also get portable machines for your homes. You have to invest in the device only once. And you can enjoy the spa-like time at your home. Make sure you learn the device before using it. 
Most commonly asked questions about Hydrafacial:
Q. How often do I need to get a Hydrafacial?
A. Depending on your skin type, you can opt for a Hydrafacial treatment once every 2-4 weeks.
Q. How many Hydrafacial treatments do I need to see results?
A. A treatment per month, and while you will see immediate results with every treatment. Six sessions will give you the desired results.
Q. How long do the results of a Hydrafacial treatment last?
A. Each treatment leaves you with smoother and more hydrated skin that lasts for 5 to 7 days.