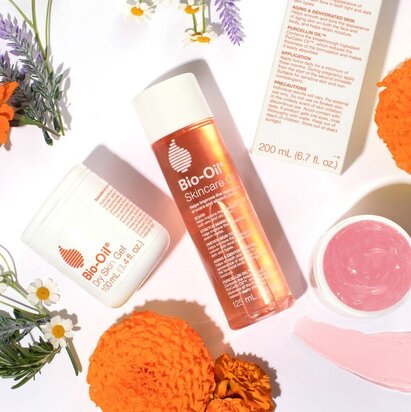 Best Stretch Mark Cream in Pakistan: A stretch mark is a type of scar that develops when our skin stretches or shrinks quickly. Not everyone develops these narrow bands on their skin. Fluctuating hormone levels seem to play a role. You may also have a higher risk if people in your family get stretch marks.
If you develop stretch marks, you're most likely to do so during these times:
Growth spurts that happen in puberty

Pregnancy

Rapid weight loss or gain

Weight training when you have rapid muscle growth
Best Stretch Mark Cream in Pakistan
Now the question is can anything prevent stretch marks? The short answer is maybe. Researchers have found that products containing Centella or Hyaluronic acid may help prevent stretch marks. Centella is an herb, and our skin naturally contains hyaluronic acid. Stretch marks are easier to control when they are early. Mature marks are not easy to prevent. While using any product on your skin, make sure to work it through the skin. Also, apply the product every day.
Bio-Oil Body Oil
Bio-Oil Body Oil helps to improve scars, stretch marks, and uneven skin tone. It also helps hydrate and softens the skin. It helps reduce the formation of stretch marks during pregnancy, teenage growth periods, and rapid weight gain or loss. Keep in mind that they will not disappear, but they will be visibly less.
Palmers Cocoa Butter Formula Massage Cream
Palmers Cocoa Butter Formula Massage Cream helps visibly improve skin elasticity and reduce the appearance of stretch marks. Pure Cocoa and Shea Butter, Natural Oils, Collagen, Elastin, and Lutein keep skin moisturized for 48 hours. It is for stretch marks during and after pregnancy or weight fluctuation.
Aichun beauty anti-stretch mark cream
Aichun beauty anti-stretch mark cream is a mild cream that prevents and eliminates stretch marks, scars, and burns. It repairs damaged skin, restores skin elasticity, and hydrates the skin. This cream firms the skin making it smooth and soft.