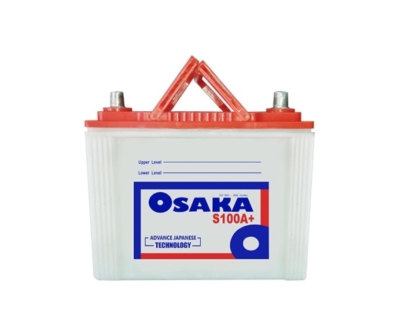 Osaka Batteries 100 Amp Price: Under the brand name "Osaka," they have been manufacturing various kinds of automotive and inverter batteries for more than 19 years. They are an ISO 9001 and ISO 14001 certified firm. Business Overview They have all different kinds of automotive batteries, ranging from 32 Amp to 240 Amp, as well as a motorcycle battery, with capacities between 4 and 10 Amp. They are proud to be the only local manufacturer of maintenance-free batteries in all capacities, from 32 Amp to 200 Amp.
Osaka is the sole local manufacturer of tubular batteries, which are specialized batteries for solar panels and standby power, and range from 12 volts to 80 Amp to 160 Amp. The ability and capability to use VRLA (Valve Regulated Lead Acid Battery) (AGM) ranging from 12 volts 80 Amp to 200 Amp in Front Access and Top Terminals for Telecommunication and alternative energy is another significant accomplishment by Osaka.
Osaka Batteries 100 Amp Price
High market demand exists for the batteries supplied by Osaka Batteries. Here, we're giving you all the information about some of their pricing list for 2023. In Pakistan, the most well-known battery brand is Osaka. All cities in Pakistan have their batteries for sale. Their products have an extremely long lifespan. You may now review and choose the Osaka Battery Price List. In Pakistan, Osaka costs start at PKR. 2,700.
| | |
| --- | --- |
| OSAKA S50L PLUS SILVER PLUS BATTERY WITH 1 YEAR OSAKA BRAND WARRANTY – CAR UPS SOLAR INVERTER GENERATOR AND MULTI PURPOSE BATTERY | Rs. 8,995 |
| OSAKA S100A PLUS BATTERY 12 VOLTS 72AH 11 PLATES SPECIAL DESIGNED FOR UPS INVERTER SOLAR GENERATOR TRACTOR COASTER BUSES AND MULTI PURPOSE AUTOMOTIVE CAR MOTORS BATTERY | Rs. 14,950 |
| Osaka Battery P150S 115 Ampere 19 plates 12 volts Ups Solar Inverter Generator Tractor and Multi Purpose Battery | Rs. 24,500 |
| Osaka CNG55 | Rs. 3,200 |
| Osaka CNG65 | Rs. 4,200 |
| Osaka CR65 | Rs. 3,800 |
| Osaka IPS Gold 1600 | Rs. 13,300 |
| Osaka IPS Gold 850 | Rs. 10,200 |
| Osaka MF 50 | Rs. 4,200 |
| Osaka MF110 | Rs. 7,000 |
Osaka Battery 100 Amp Price in Pakistan
S 100 72 AH 11 Plate Battery:
| | |
| --- | --- |
|  Battery Type |  Lead Acid Battery |
|  Battery Model |  S 100A+ |
|  Volts |  12 |
|  Plates Per Cell |  11 |
|  Ampere |  100 Ah |
|  Size in mm |  L-302 x W-172 x H-224 (+/-5mm) |
|  Polarity |  Right Thick Pole |
|  Weight |  39.36 |
|  Warranty |  1 Year |
|  Battery Family (J I S) |  N70 Family |
|  Brand |  Osaka |
|  Manufacture |  Osaka Pakistan Limited |
|  Application |  Up-to 1600 cc Vehicles |
|  Made in |  Pakistan |
There is a big product selection in Osaka. Cars, motorbikes, and even maintenance-free batteries are available. Osaka serves its clients' needs through a number of regional offices spread out around the nation.
Osaka Dry Cell Batteries
Numerous maintenance-free batteries are offered by Osaka. These batteries may technically be called "dry cells," and that would be accurate. This kind of battery doesn't need any additional acid. They don't need to be charged at first because they are packed with electrolytes. They are resistant to corrosion, strong, and long-lasting.
Osaka maintenance-free batteries come in a wide variety, including the MF50L, MF60L, MF100R, and many others.
Osaka Lead- Acid Batteries
Compared to a dry cell or maintenance-free battery, lead-acid battery is more widely used. Despite needing more attention and effort to get going, they are considerably less expensive. These may be seen on many automobiles, motorbikes, and residences. They are intended for powerful cars.
Osaka ensures that the cold cranking power of these batteries is strong, reaching up to 122 percent. The Osaka S50+ is one of the most popular alternatives. It has a 34Ah ampere at 12 volts. It's designed for automobiles with 800- to 1000-cc engines. Of course, if you want something more potent, there are additional possibilities accessible.