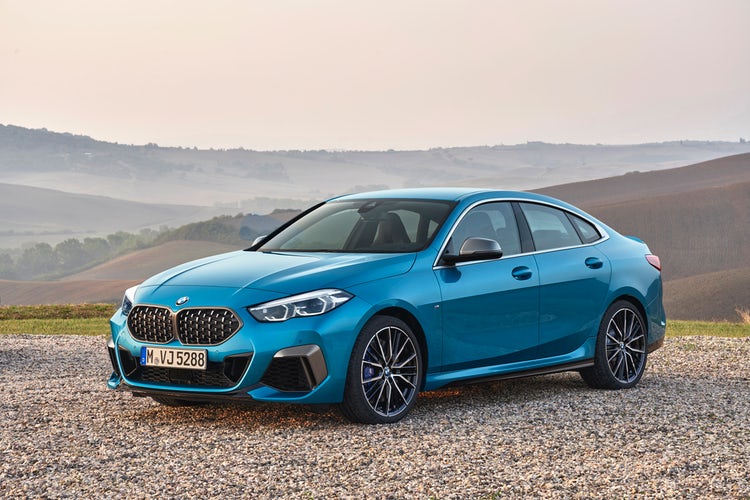 Coupe sedans are the trend these days. But, a glimpse of the past asserts that this form factor has been very popular. Coupe cars with their sportier drive train and floating roof design have been adding fun to the commute from point A to B. The 2-Series gran coupe is no exception. Today we'll be thoroughly checking out the BMW 2-Series Gran Coupe launched by Dewan Motors in Pakistan.  
BMW (Bavarian Motor Works) is a German auto manufacturer. It has been famous for its M cars all around the world. They had been producing Driver's cars for automotive enthusiasts. In this way, the brand has an immense following in Motorsports. It counters brands like Mercedes-Benz, Audi, and Porsche.
Without further ado let's get into the details of the newly launched BMW 2-Series Gran Coupe.
BMW 2-Series Gran Coupe Launched in Pakistan
Exterior
With its sportier Gran Coupe design, it looks a bit like the Flagship 8-Series in the first glance. But, coming to the front is a completely different story. The more options you choose, the more the car becomes imposing and angular. It has a good stance. Especially, the side profile is the most pleasing. However to me personally the rear end looks a bit like a squashed BMW X4M which might be wrong!
Interior
BMW has equipped the car with all the latest tech. You get all-time favorite BMW's iDrive system. It has all the latest Highway Assist including Auto Braking, Lane Assist, and Adaptive Cruise Control. On higher trims, you get all-around parking sensors and Bird's Eye view camera. Everything feels sturdy and solid. You get airbags and Isofix as standard.
Dimensions and Practicality
The following are the dimensions of the car.
| | | | | |
| --- | --- | --- | --- | --- |
| Length | Width | Height | Wheel Base | Curb Weight |
| 4534mm | 1801mm | 1420mm | 2670mm | 1603Kg |
The car is decently practical. One obvious caveat due to the floating roof is the compromise of the rear-seat headroom. Despite the looks of it, the vehicle is not a hatch. Its boot has a sedan opening though it is decently sized. But, due to the limited opening, it is not perfect when it comes to loading stuff.  It has a boot capacity of 430 liters.
Driving Dynamics
For the regular models, not a problem. But, when we specifically consider M Sport versions of the BMW's we expect them to be Rear Wheel drive. Unfortunately, BMW has launched this car with a front-wheel drive-based system worldwide. This is because the BMW X-Drive (All wheel drive) is front-drive biased for efficiency and stuff. This also makes the car understeer a bit. But, the point is do you need an efficiency out of an M sport model?
Engine and Trim Combinations
As per Pakistan,
Trim
Engine
Transmission
Company claimed 0-100
Advantage
218i (1.5 liters 3 cylinder turbo petrol) 140 hp, 220 Nm.
7-Speed Auto
8.7 seconds
Luxury Line
220d (2.0 liters 4 cylinder turbo diesel) 190 hp, 400 Nm.
8-Speed Auto
7.5 seconds
Sport Line
220d (2.0 liters 4 cylinder turbo diesel) 190 hp, 400 Nm.
8-Speed Auto
7.5 seconds
M Sport
235i (2.0 liters 4 cylinder turbo petrol) 306 hp, 450 Nm.
8-Speed Auto
4.4 seconds

Comes with BMW X-Drive
Pricing and Verdict
BMW Dewan has launched the vehicle at the start of July 2020. Prices are yet to be announced. You can expect a price tag at least above 10 million PKR at least.
BMW 2-Series Gran Coupe is a good package overall. But, it certainly lacks the DNA of an M car.