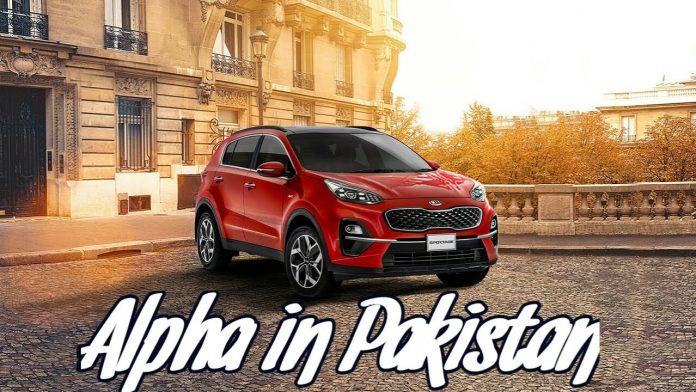 In a bid to make its vehicles more affordable. Kia Lucky Pakistan has added another base variant in its SUV line up. This base variant of Sportage is named as  KIA Sportage Alpha. It has a price tag of 44 lacs (4.4 million) 6 lacs down from the mid-variant.
KIA Sportage Alpha Price in Pakistan
An attack on Sedans (Not the case)
This has made this SUV's line up to compete with the top tier sedans like Toyota Corolla Grande and Civic Turbo. The reason behind is the competitive price tag. Although, this is an absurd apple orange comparison due to the Best Specs and Features of the Sedans which Sportage Alpha certainly lacks. Also, this has never been the case because in this range people already have the Glory 580 which is more value to money.
KIA Sportage Alpha Price: Affordability
The high flight of US Dollar has shrunken the buyers reach. They need more affordable vehicles. This is a very smart move by KIA as the expected the Sportage cousin Hyundai Tucson is on the way of its launch. This is an option for the people who want a simple SUV without any shimmers.
KIA Sportage Alpha Price: Competition
One Year back in August. After its launch, Kia Sportage became the entry-level SUV of Pakistan priced around 5 million. Before its launch, One considered buying imported BMW X1 and X2, while the local market had a single option of Toyota Fortuner. Though DFSK had launched the Glory 580 it wasn't in the sight back then. A big reason for this was the poor marketing or no marketing to be precise.
KIA Sportage Alpha Price: Drive Train Specifications
This entry-level KIA SUV has the same Driving DNA as its Top of the Line Siblings. Despite, its lesser price tag the mechanics remain 100% the same. This means that it has the same 2.0 liter naturally aspirated engine which churns out 154 Hp and 196 Nm of torque. It is mated to a six-speed dual-clutch automatic. Top the line variant is equipped with All-Wheel Drive while mid variant and Sportage Alpha is Only Front-Wheel Drive.
The Sportage Alpha Features:
| | | |
| --- | --- | --- |
| Exterior | Interior | Safety |
| 17-inch alloys | Metal-Top | Dual Airbags |
| Halogen Headlamps | Fabric Seats | Manual Hand-Brake |
| Halogen Taillights | 7-inch Infotainment | Manual Tailgate |
Also, the day time running lights will be changed
Excluded (Not Available) Features:
| | | |
| --- | --- | --- |
| Exterior | Interior | Safety |
| 18-inch alloys | Panoramic Sunroof | Parking Sensors |
| LED Headlamps | Leather Seats | Electronic Stability Control |
| LED Tail Lamps | Auto Tail Gate | Electronic Hand Brake |
| Cube DRL's | 8-inch infotainment | Down Hill Assist |
All three Variants Pricing:
| | |
| --- | --- |
| Variant | Ex-Factory Price |
| AWD | 54 lacs |
| FWD | 49 lacs |
| Alpha | 44 lacs |
Conclusions
Coming up with smart moves KIA has a lot to comprehend. First of all, the Prince DFSK Glory 580 is gaining popularity every passing day. Hands down to its ultra-competitive yet most affordable price tag. Also, with the upcoming launch of Hyundai Tucson consumers have the choice to Buy the Sportage Alpha instead.
Finally, in my opinion, Sportage Alpha lacks the Value of Money credibility because various prime safety features have been omitted. But, it certainly is a competitive option. Another plus point is the KIA's industry-leading 4 years and 100,000 km warranty.