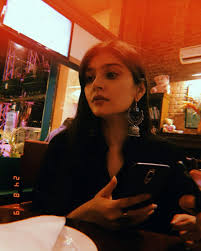 Dur e Fishan Biography: Dur-e-Fishan is a new and very talented actress of Pakistan's industry. She has recently joined the industry after completing her education. Dur e Fishan said it was her dream to become a successful actress and show her talent on television.
Dur e Fishan has gained reputation by her first project Dil Ruba. In which she is looking gorgeous and innocent. She has also played her role efficiently so the people are waiting to see her in new upcoming dramas.
Dur e Fishan Biography
Dur e Fishan Personality
She has a very innocent personality. She is very cute and gorgeous looking girl.  Her personality is very elegant. Everyone likes her personality and she look.
Dur e Fishan Age
Dur e Fishan is a very young girl. She has joined the showbiz industry at a very early age.  She is one of the youngest actresses in our industry. Her birthday is on the 14th of January. Her exact age is not yet confirmed.
Dur e Fishan Education
Dur e Fishan has done LLB from the University of London. Many famous actresses and actors have also done this degree from the same University.
Dur e Fishan Family
Dur e Fishan belongs to a very well educated family. She has only one brother named Abdullah. She is the only daughter of her parents.
Showbiz Career
Dur e Fishan is new actress. She has recently joined the showbiz industry. Dur e Fishan has gained a lot of reputation in the showbiz industry in a very short time time period. She became popular with her first drama.
Everyone was amazed with Dur e Fishan acting in her first drama as many actresses do not perform very well in their first drama but Dur e Fishan amazed everyone with her outstanding performance. She gained everyone's heart by her awesome personality and through his amazing acting.
Dur e Fishan Dramas
Dil Ruba
Dur e Fishan has recently done a successful drama Dil Ruba which was her first project. She has played a perfect role in it. Dur e Fishan was playing the role of Sanam's (Hania Amir) sister. She has done an awesome role in it. She was looking gorgeous and innocent girl in Dil Ruba.
Everyone is praising her acting in Dil Ruba. Dil Ruba is one of the most popular dramas of Pakistan. The drama is about a Tiktoker girl (Hania Amir). Hania Amir has also done very well and played his role fantastically. Hania Amir faced a lot of problems after her marriage because her husband comes to know about her wrong relations with different boys. Dil Ruba gained a lot of popularity and liked by many peoples.
Bharas
Bharas is the upcoming drama in which Dur e Fishan played her role for the second time in the showbiz industry. She is looking very gorgeous and heart touching in it. Many people are excitedly waiting for her in this upcoming drama serial because the audience was impressed by her acting in her first drama. So everyone wants to see her again and again on television because Dur e Fishan has gained the heart of a lot of peoples.