Ahsan Mohsin Ikram Biography: Ahsan Mohsin Ikram is neither a very recent nor a very old actor in the Pakistani drama and film industry. Though he started his career by performing in Pakistani tv commercials now his fame is just on the top of the sky. He starting working on different projects of dramas and the film industry. His fan following is increasing day by day. Here we are going to tell our viewers something very interesting about this young emerging talent of the Pakistani film and drama industry.
Ahsan Mohsin Ikram Biography
Ahsan Mohsin Ikram is getting popular with every passing day. His popularity due to his dramas and film is the hot topic of discussion among his fans. He joined the Pakistani drama industry after 3 years work of in commercials. Due to his talented acting and his hard work he became very famous and producers started thinking about him to give him a chance of acting in dramas and films. And when he started working on different projects his fans started appreciating his acting.
Ahsan Mohsin Ikram Age
Ahsin Mohsin Ikram opened his eyes on 22 September 1992. He is 28 years old. He was born in Karachi.
Ahsan Mohsin Ikram Education
Asim Mohsin Ikram is very talented and educated. He studied at an international university. He completed his degree from Limkokwing university of creative technology Malaysia. he also completed his bachelor's in marketing. But he did not use any of his degrees as a profession and he chooses acting over an educational profession.
Ahsan Mohsin Ikram Family
He belongs to very rich and stable family background. His father is a businessman and has his own business empire of Ikram motors. He has only one sibling his elder sister. His mother is also a working lady and helps his father in operating the business.
Horoscope
He belongs to the zodiac sign Virgo.
Ahsan Mohsin Ikram Wife
Ahsin Mohsin Ikram recently engaged with Pakistani famous Tv actress Minal Khan. His affair with the very leading actress Minal khan becomes very popular. As they were often seen together at many places. Even at Minal khan's sister's wedding, they are seen together. They have not opened up their relationship in public but chances are that they are in a relationship with each other.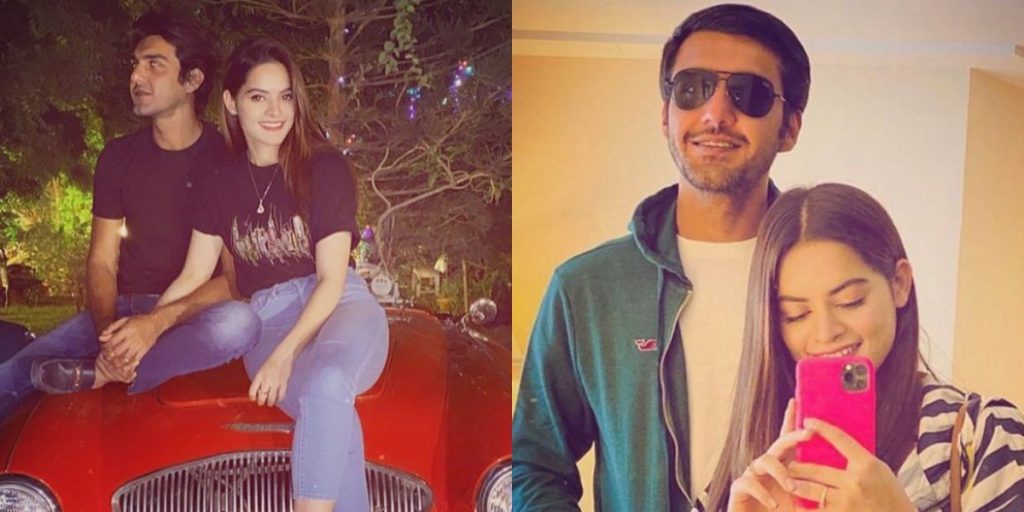 Career
He started his career in the Commercial industry. Soon his acting skills came to known to different producers and they cast Ahsin Mohsin Ikram in their dramas. Through his dramas, he proves himself in the field of the Pakistan dram industry. His acting is highly appreciating and then he starts working in the Pakistani film industry. He is currently working on different projects which are soon going to air. He made his debut from the drama serial "Perchayee" which becomes the reason for his popularity.
Ahsan Mohsin Ikram Dramas list

He worked in some dramas as
1. Percahyee
2. Mera Rab Waaris
3. Pyar Ke Sadqay
Films
He works in a film known as " Thora jee le" which is a super hit and released in the year 2017.