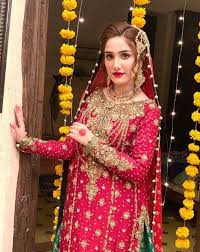 Aiza Awan Biography: Aiza Awan is a very talented and charming actress in the Pakistani drama industry. She is the emerging actress of the latest Pakistani showbiz industry. Aiza Awan just started working in drama and is becoming very popular with her viewers. She made videos on Tik Tok and gained popularity from the social media app Tik Tok. After this, she started working in different commercials, and then she started working on different projects. Here we are going to tell our viewers something about this talented actress.
Aiza Awan Biography
Aiza Awan is becoming very popular with her viewers. People want to know about her career and her personal life. Aiza Awan started working by performing in different commercials. Due to her commercials, she became familiar with the Pakistani drama industry, and then she started working. She gained popularity through a drama serial " MUJY BETA CHAHIAY". This drama becomes the reason for her popularity and she gained many fans following. After working in this drama she works on many projects.
Aiza Awan Age
Aiza Awan came to this world on 10 august 1998. She is a very young actress. She was born in Karachi.
Horoscope
She belongs to the LEO zodiac star.
Aiza Awan family
Aiza Awan is the only daughter of her parents. She lives with her parents in Karachi.
Aiza Awan Education
Aiza Awan is not very good at her studies. She just completes her Intermediate in ARTS.
Aiza Awan Husband
She is not married yet. She is still single.
Career
She started her career as a commercial actress then started working in the drama industry. From her childhood, she wants to become a model but she said in her recent interview that she was very fat and chubby which is why she cannot become a model. Then she wishes to become an actress. Her parents were very angry about her career in the drama industry but now they are happy to se her daughter in Pakistani dramas. She appears in many dramas. Her most recent drama is going to start from 4th December 2020 on ARY digital.
Aiza Awan Drama List
Here are some of the dramas of Aiza Awan.
1. Mujy beta Chahiay
2. Sotan
3. Haqeeqat
4. Zara Sambhal kay
5. Faryaaad
Aiza Awan weight loss journey
Aiza Awan tells in her recent interview that she very fat and she lose her weight. Before dieting, she was 65 kg's but after her weight loss, she is 51 kg's only.
Hobbies And Qualities
1. She is very fond of eating that's why she becomes fat.
2. She likes her mole on her upper lip.
3. She spends her whole money in buying makeup, Perfumes, and dresses.
4. She likes sweet dishes.
5. She is not much socialize.
6. She takes much care of her hair.